What is Wielerschool Japan?
Wielerschool Japan is a full-fledged course of bicycling started in 2003 as a sports bike education for children, based on the teaching text of the Bicycle Federation in Belgian Flanders Region, and is a volunteer group run by non-profit bicycle lovers.
Since 2007, we have changed to an educational program to raise the humanity of children using bicycles, Currently, more than 100 supporters across the country provide guidance to children in various places.

Philosophy / slogan
Have fun to ride a bicycle for as many children as possible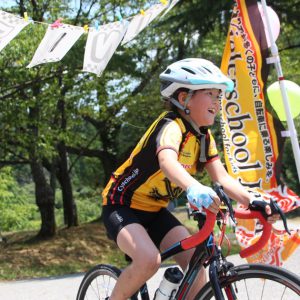 Based on the idea of utilizing the bicycle as a means to live a happy and productive life, we transmit that sociality and necessary human development will grow by riding a bicycle. We spread our activities nationwide so that the children learn to use the bicycle safely and comfortably.
We cultivate the ability that children can think and judge by themselves, and nurture their desire to ride a bicycle. We utilize bicycles as an effective means of comprehensive education. This is the social role (mission) of the bicycle course.
Wielerschool Japan
Chairman : Takaaki Nakajima
16-1 kobashinomoto izumi miyama nantan
Kyoto Japan
wsj-info@cyclingschool.jp
+81-90-5248-0055